How does Liquid Traction work?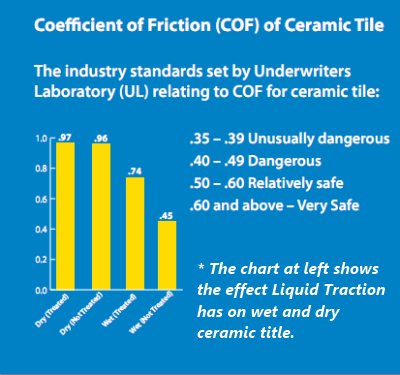 Liquid Traction creates an invisible "traction" or "tread" on slippery surfaces by increasing the Coefficient of Friction (COF). It goes on clear, and there is no noticeable change in the overall appearance to the treated surface. Liquid Traction provides slip-resistance to most wet surfaces, by enhancing your natural "grip".
Liquid Traction is formulated to work on most hard mineral surfaces including but not limited to.
Porcelain

Ceramic

Concrete

Travertine

Limestone

Pavers

Brick

Granite

Slate

Bathrooms

Showers

Bathtubs

Pool Decks

Entryways

Walkways

Kitchens
...And more
**Liquid Traction is not recommended for Polished Marble or other Polished Calcium Stone as it can reduce or remove the shine of the marble or stone.